Innovative, relevant online
Technology Degree Programs
A technology degree or certificate program from University of Arkansas Grantham's College of Science, Engineering, and Technology is a relevant and highly-respected credential.
University of Arkansas Grantham has received accreditation from the Engineering Technology Accreditation Commission of ABET for the Bachelor of Science in Electronics Engineering Technology program.
Benefits of an Online Engineering Technology Education
Engineering technology and computer science programs teach students the skills needed to design and produce advanced technical systems and applications using engineering principles and information systems best practices. In addition to learning programming, students will use mathematics and physics to solve technical problems and learn how to effectively communicate engineering information with other members of an organization.
There are many advantages to an online undergraduate or graduate degree in engineering technology and computer science, especially for professionals who are already established in the engineering industry. Students have the ability to study on their own time instead of making a commitment to on-campus classes. Courses are offered in an asynchronous format, meaning assignments can be completed at any time of day, whenever it's convenient for the student. While some programs are fully self-paced, most have assignment deadlines and specific exam dates. As long as the student meets those deadlines, he or she should be able to graduate in a timely manner.
In an online environment, student resources are available and accessible 24/7. These may include engineering-specific libraries and in some cases, live one-on-one tutoring. Learning management system features such as discussion boards and instant messaging allow students to easily ask questions or receive help from faculty members and classmates. Online courses often include group projects, which can be completed fully online without the group having to meet at a physical location.
Training the Next Engineering Generation
Emerging technology is built around the advancement of engineering capability. At Grantham, students learn to expand and develop new engineering concepts, and develop understanding of new technology in areas like wearable technology, autonomous vehicles, 3D printing and data science.
The effect of these new technologies on our society is profound. 3D printing, for example, has allowed companies to reduce wasted resources and even created life-changing medical devices for disabled populations. With further engineering, 3D printing is expected to make tremendous advancement and create positive change in communities all over the world.
Computer science students learn to work with revolutionary digital concepts such as big data and machine learning. More organizations are adopting these technologies to make business predictions and gain a competitive advantage in their market.
Message from the Dean
Nancy Miller, Ph.D.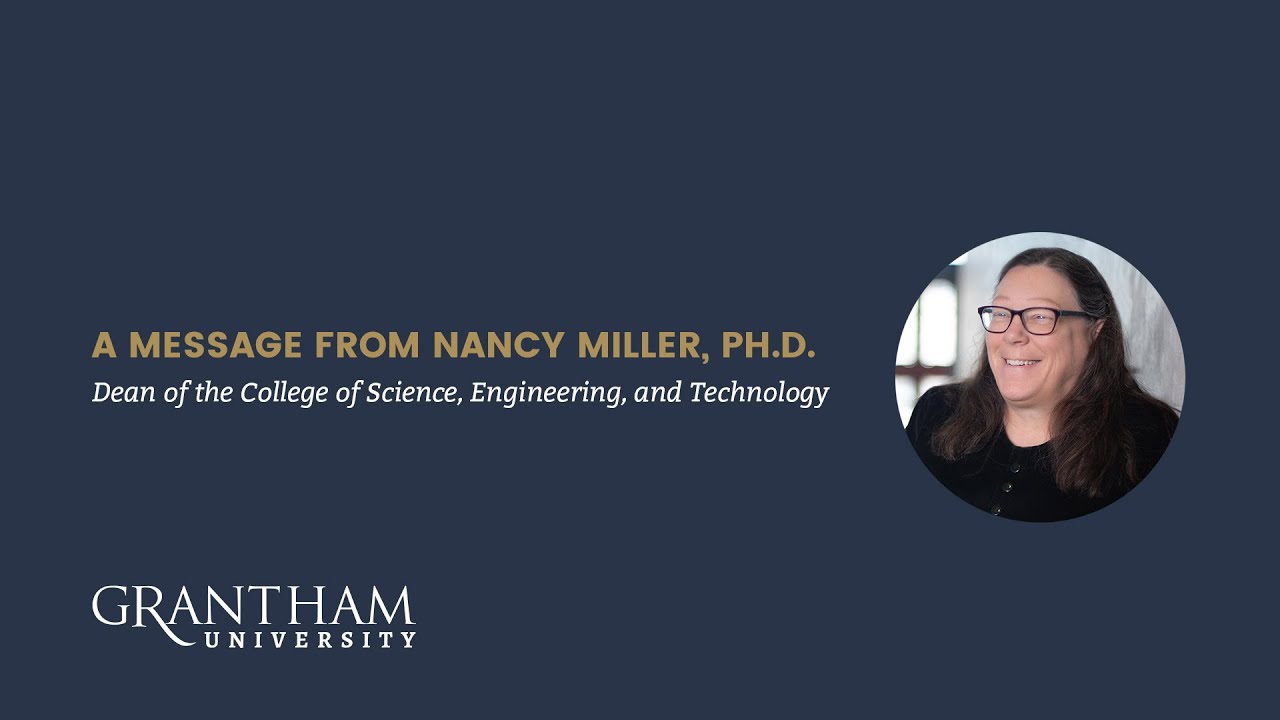 Hi, I'm Nancy Miller, and I'm the Dean of the College of Science, Engineering, and Technology.
I want to personally thank you for taking the time to learn more about the programs within the college.
We have programs from the Associate's level to the Master's level covering a wide breadth of the technology spectrum, from engineering technology and computer science to information systems, cybersecurity, information management, and information technology.
We strive to make the programs hands-on and engaging through simulations, virtual desktops, hosting accounts, and even home electronic kits.
We also keep the programs relevant and current through consultation with representatives in industry.
For instance, we have or are developing electives covering topics in Ethical Hacking, Social Engineering, Hadoop, wearable technology, and security of cyber physical systems.
One thing I've noticed is that many students are afraid to enroll in technology degree programs, thinking that the degree will require a lot of math.
But our programs have a range of expectations with respect to math, some requiring little math, and they all start with College Algebra.
Our goal is to make technology-related degrees accessible to as many people as possible.
In addition to great programs, University of Arkansas Grantham has student advisors and tutors available to support you throughout your journey.
As you explore our programs, please contact me or an admissions representative if you have any questions.
The mission of the College of Science, Engineering, and Technology is to teach relevant engineering, computer, and information technologies skills and methods through online integrated curricula that blend theory, application and general skills development.